Bride recounts a beautiful story of how she met her husband in school when he was still her course lecturer.
Very often, the story of love's beginning is usually varied and unique among couples.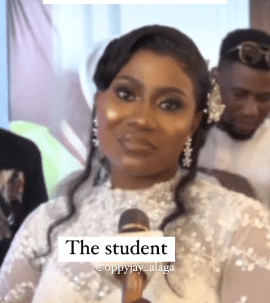 A lady recounted how she had met her husband during their wedding reception. The bride who was seen wearing her beautiful wedding dress, explained that she and her man had met in school.
At the time, her husband was just her university lecturer before they fell for each other and one thing led to another which eventually culminated in their marriage.
A snippet from their beautiful wedding ceremony was also shared.
See how netizens reacted …
Kenny Bickk stated: "Not my school cos na old men be our lecturers 😂😂"
Her Mother's Daughter 💞💫🌹 remarked: "i no fit marry my lecturer 😂😂😂😂😂😂"
Oseunfunmi said: "eleyii loud oo😳"
Watch the video below …